Share this URL: http://shm3daysummercamp.peatix.com
Event is FINISHED
Superhero We Summer Inclusive Arts Camp
SUPERHERO WE INCLUSIVE ARTS SUMMER CAMP
Dates: 31 May (Thu) – 2 June 2018 (Sat)
Timing: 10am – 130pm
Cost per child: $130 for 3 days, including snacks and a ticket to watch a theatre performance at The Artground.
Recommended Age Group: 6 – 10 years old
Children of all abilities are welcome.
There will be 10 children from Superhero Me's partner Special Education schools joining the camp.
Following Superhero Me's successful pilot of an inclusive arts camp at the Enabling Village in March
2018, it will programme a second run of the camp from 31 May – 2 June 2018 bringing together 30
children with and without special needs to experience inclusion through the arts.
The camp focusses on inspiring children to understand differences through art, experience empathy
through music and movement and build resilience through creativity. Some highlights include a
costume crafting workshop, playback theatre experiences where children imagine their superhero
personas in different situations and learning practical ways to cope with stress.
Day 01: Differences as Strengths. Finding our superpowers from within
Day 02: Empathy. Learning how to harness our superpowers and to take care of others.
Day 03: Resilience. Superheroes need to take care of ourselves too.
For more info: https://www.todayonline.com/singapore/arts-camp-children-learn-empathise-peers-who-have-special-needs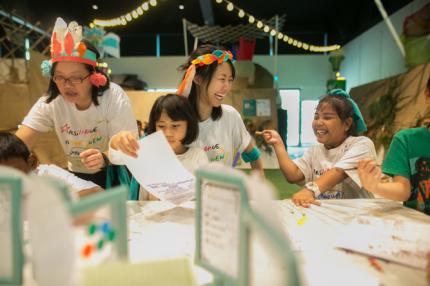 ~*~*~*~
SUPERHERO ME

AT GOODMAN ARTS CENTRE
Superhero Me, a ground-up inclusive arts movement, will hold a week of inclusive art activities from
25 May to 3 June for children at Goodman Arts Centre. H
eld in conjunction with Goodman Open House and

100 and 100 more

, a children's arts festival by
The Artground, the activities feature a colourful, energetic vibrant space for children of abilities to
socialise through the arts and a three-day inclusive arts camp.
Catch us on 26 May (Sat) from 11am – 6pm as part of Goodman Open House!
Read more
Updates
The event description was updated. Diff#332997

2018-04-24 09:00:51
More updates
May 31
-
Jun 2, 2018
[ Thu ] - [ Sat ]
10:00 AM
-
1:30 PM
SGT
Add to Calendar
Venue
Tickets

Standard 3-day Art Camp

SOLD OUT

$130.00
Venue Address

90 Goodman Road

Singapore
Organizer
Attendees
20